Dynamically mapping driver behavior
4D map of driver behavior in New York City. This analysis can be used to predict dangerous locations. Data from Zendrive, mapping by BuroHappold.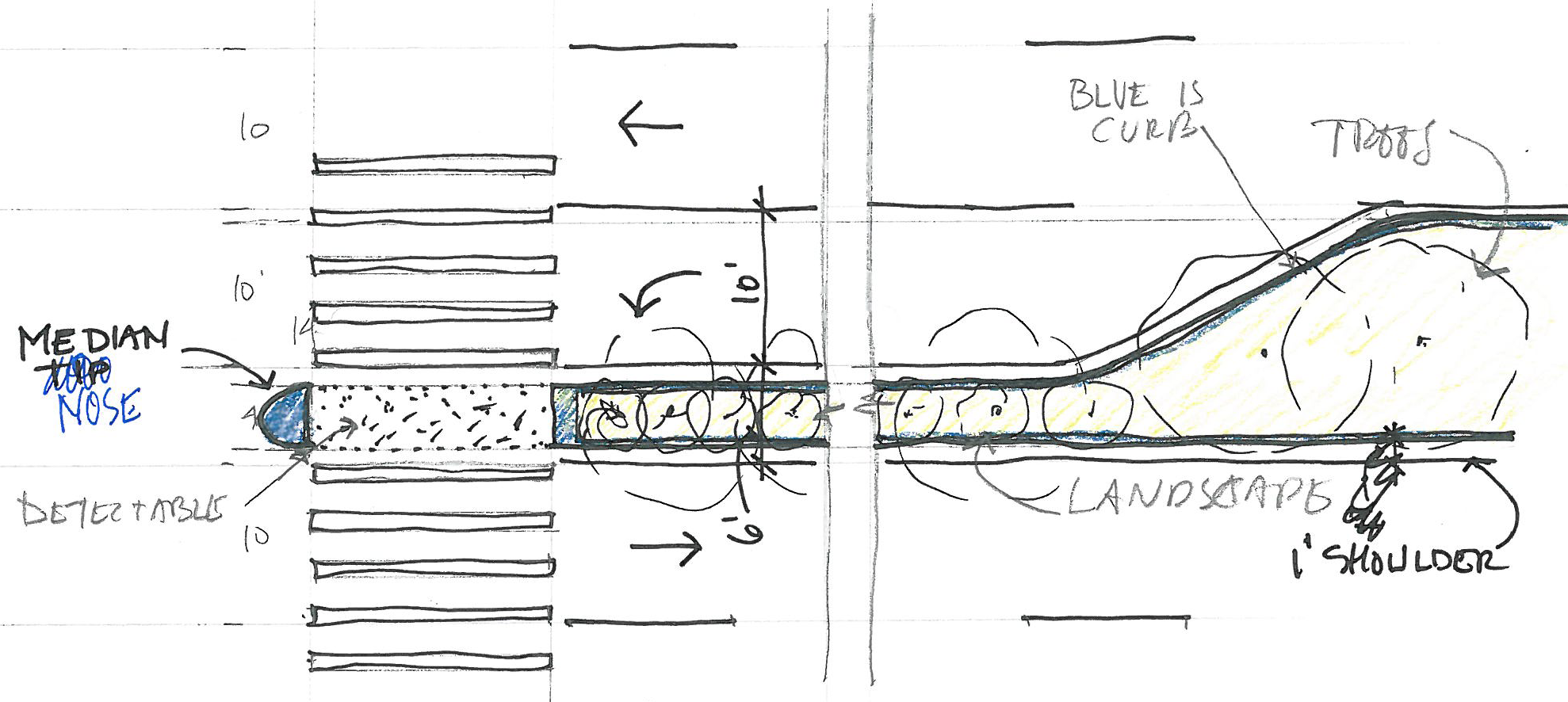 Median at crosswalk design
Sketch showing the salient characteristics of a median located at a crosswalk.
DL-23 design vehicle
The DL-23 is the size of a delivery truck like UPS, FedEx, USPS, and DHL. They are longer than a van, but smaller than an SU-30 (a 30-foot long box truck). The DL-23 was not in the standard design vehicle lexicon, and street design suffered.
We first proposed this design for the New Jersey DOT in 1999. We included it in the Chicago Complete Streets guide in 2012, and subsequently in the NACTO USDG. It is now commonly used.
Fun fact: we based it off a design vehicle from the Czech version of AutoTurn.
Truck and car turning speed
A common issue in intersection design is the speed of a car turning around a corner designed for a truck. The larger the design vehicle, the higher the car speed.
Slip lane safety
This graphic shows safety issues associated with high-speed slip lanes.
Intersection safety analysis
Intersection redesign
We redesigned this intersection in Trenton NJ to eliminate the elements of highway design.
Leading left turn time-lapse
Series of photographs illustrating how a leading left turn is largely ignored by people walking. Note the car in the 6th frame.
NYC DOT Traffic Calming Program
We started this program in 1996, a precursor to Vision Zero.
This is one of the first 300 speed humps installed. Previously there had been various traffic calming interventions, but never as part of a citywide program.
Most of the humps were installed mid-block, but we placed a few at intersections and crosswalks. We did extensive before and after speed surveys that proved they lowered speeds. We wrote Standard Operating Procedures. The program continues today.