Riuru (Kenya) 2016
Street Design and NMT Facilities
Jacksonville FL (USA) 2015
Beach Boulevard Complete Streets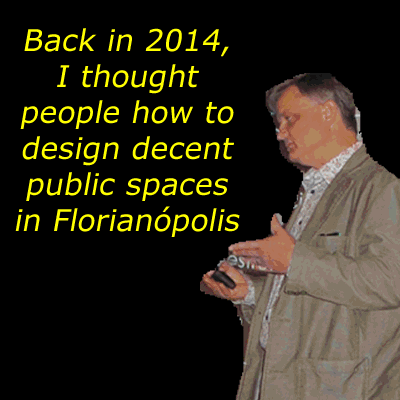 Florianópolis (Brazil) 2014
A two week long training workshop, part of PLAMUS, the sustainable urban mobility plan for Florianópolis.
New Rochelle NY (USA) 2014
Traffic Circulation and Gateways to the City's Downtown
Boulder CO (USA) 2013
Association of Pedestrian and Bicycle Professionals' Professional Development Seminar
Takoma Park MD (USA) 2013
As part of the New Hampshire Avenue Multiway Boulevard Feasibility Study, we workshopped designs for bicycle facilities in a multi-way boulevard.
We developed four options for placing bicycle facilities along a multi-way boulevard (this is one with both a central and side medians, think Octavia Street in SanFran, Avenue K in DC, or Ben Franklin Parkway in Philly).

Along the street we considered whether the bike lane would be better as part of the median or the sidewalk. At the intersection one has to sort out how the cyclists and drivers interact. These are the green (bike), orange (car), and blue (pedestrian) lines on the drawings. It is absolutely essential to understand how a street, especially an intersection, will operate.
Al Ain (UAE) 2010
Al Ain Central District Plan

Manhattan NY (USA) 2008
Upper West Side Livable Streets Blueprint Report